Adherence to Therapies and Devices
---

Welcome Message
Thank you for joining us at the American Thoracic Society (ATS) Lung Disease Week, a forum designed to provide education and support for the millions of individuals living with respiratory, sleep-related, and critical care conditions. This week (June 11th-17th) is focused on the promise of newer technologies, like precision and personalized medicine, and what these advances may mean for improved lung therapies in the future.
Respiratory and related diseases are among the most common medical conditions globally affecting more than 500 million people. As one of the premiere professional societies focused on lung diseases, sleep disorders, and critical care medicine, ATS Lung Disease Week provides a platform for individuals to interact directly with experts in these fields to learn more about their conditions, understand the research landscape that drives advancements in their disease, and share their lived experience of these diseases with researchers and clinicians.  

We are delighted you can join us for ATS Lung Disease Week "Adherence to Therapies and Devices" and invite you to participate in future ATS Lung Disease Weeks."
Michele Manion
Founder & Executive Director

PCD Foundation

Immediate past Chair, ATS Public Advisory Roundtable

Kristen Willard, MS
Executive Vice President of Public and Professional Education

COPD Foundation

Member, ATS Public Advisory Roundtable

Kathy Page 
Board Vice Chair 

Alliance of Sleep Apnea Partners

Member, ATS Public Advisory Roundtable
 ATS Adherence To Therapies and Devices

The COPD Foundation is a 501(c)3 non-profit organization dedicated to preventing and curing COPD and improving the lives of all those affected by the disease. The COPD Foundation is a patient-centered organization committed to preventing COPD, bronchiectasis, and nontuberculous mycobacterial (NTM) lung disease, and to seeking cures while improving lives and advocating for all affected.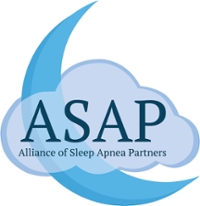 Alliance of Sleep Apnea Partners (ASAP) 501(c) 3 non-profit founded in 2018. ASAP hosts a patient-friendly, easy to navigate website to provide education, resources, and tools for helping patients understand the risk factors for Sleep Apnea and the consequences of untreated Sleep Apnea, and treatment options for Sleep Apnea. It is a provider-trusted site to facilitate patient learning and patient-centered choice of treatment. The site includes a Sleep Apnea-specific Products and Treatment Support" section.