Pulmonary Circulation (PC)
---

---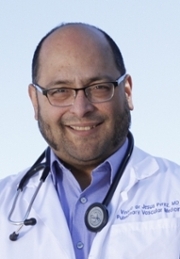 Vinicio A. de Jesus Perez,
MD, FCCP, FAHA, ATSFF
Assembly Chair
We are delighted that you are visiting the website of the Pulmonary Circulation (PC) Assembly – the definitive ATS home of all matters relating to the pulmonary circulation. Our Assembly membership includes basic scientists, clinicians and educators interested in the understanding of the vascular basis of lung disease. The scope of scientific, clinical and educational interests of our membership spans a wide range from basic science at the level of cell and molecular biology to translational biology and clinical medicine.
If you are not already a member, we encourage you to join our community by participating in PC-sponsored programmatic events at the ATS International Conference. In particular, we would be very happy to see you at the membership meeting during the International Conference where you will witness new developments and plans for our Assembly. If you would like to take part in PC governance, do not hesitate to drop us an email at: PC@thoracic.org.
Within our mission of advancing knowledge in pulmonary vascular biology and medicine, PC offers several unique opportunities to engage in scientific exchange and education. For example, you could take part in the biennial Grover Conference, develop the program of the ATS International Conference by organizing symposia, postgraduate seminars and workshops under specific subject categories, and you could participate in the interactive PC journal club on this website. In addition, we encourage you to solicit and develop projects for ATS sponsorship. Lastly, we encourage trainees and early and mid-career stage investigators with an interest in pulmonary vascular biology and medicine to participate in the PC Early Career Working Group, mentoring program and apprenticeship program.
We are committed to ensuring that all members have an equal opportunity to contribute and shape the future of cardiopulmonary health.  By embracing diversity, promoting equity, and fostering inclusion, we are committed to making a lasting impact in the lives of individuals and communities affected by cardiopulmonary diseases. 
Thanks for stopping by at our website.
Do not hesitate to contact me if I can help you in any way.
Comments, Ideas, Suggestions, or Questions for the PC Assembly?