Section on Genetics and Genomics
---


Author: Ann Chen Wu, MD, MPH, Nominating Committee Member  
Description: In this study, for the first time, we examined the real-world effectiveness of inhaled corticosteroids (ICS)  including the combination therapy consisting of ICS and long-acting beta agonists (LABAs), considering patterns of use over a 15-year time period. We used data from the Kaiser Permanente Northern California multi-ethnic Genetic Epidemiology Research on Adult Health and Aging (GERA) Cohort which comprises longitudinal electronic health record data of over 100,000 people. We assessed longitudinal asthma-related events, such as ambulatory office visits, hospitalizations, emergency department (ED) visits, and fills of ICS and ICS-LABA combination; and defined Asthma exacerbations as an asthma-related ED visit, hospitalization, or oral corticosteroid (OCS) burst. We found that in this real world setting ICS-LABA therapy reduced all types of exacerbations by a factor of 1.76 (95% CI (1.06, 2.93), p = 0.03) per day and, specifically, bursts per day by a factor of 1.91 (95% CI (1.04, 3.53), p = 0.037). We concluded that ICS-LABA therapy was significantly associated with fewer asthma-related exacerbations in a large population of individuals with asthma who were followed for 15 years.
---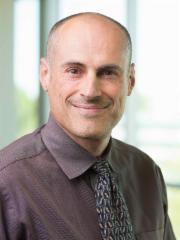 Section Chair
Anthony N. Gerber, MD, PhD
Chair: Anthony N. Gerber, MD, PhD Co-Chair: Victor Ortega, MD, PhD
Welcome to the website for the Section on Genetics and Genomics. The Section on Genetics and Genomics welcomes all ATS members who are interested in genetics, genomics, and other "omics" technologies (proteomics, metabolomics, etc.) as they pertain to the diverse array of diseases encountered in pulmonary, critical care, and sleep medicine. We encourage members of any ATS assembly to join our section. Although the Section on Genetics and Genomics resides within Allergy, Inflammation, and Immunology, our current members derive from multiple other assemblies.
Genetics and genomics are at the forefront of scientific research and medical practice in the 21st century. Although pulmonary diseases are diverse, 'Omics-based research studies have common themes, and interactions between researchers across topics can be very beneficial in informing research approaches that encompass cutting edge techniques. As detailed in our mission statement, in addition to providing a forum for the exchange of ideas among researchers in genetics and genomics, the section aims to increase knowledge and understanding of genetics and genomics across the broader pulmonary, critical care, and sleep communities. We also aim to encourage fellows and trainees to pursue research in these exciting fields. To accomplish these goals, our section's major emphases are on highlighting genetics and genomics research at the ATS International Conference and teaching genetics and genomics concepts through symposia, seminars, and post-graduate courses at the ATS International Conference