Section on Genetics and Genomics
---


Authors: 
Raphael Borie
,
Jonathan Cardwell
,
Iain R Konigsberg
, 
Camille M Moore,
Weiming Zhang
, 
Sarah K Sasse
, 
Fabienne Gally
, 
Evgenia Dobrinskikh
, 
Avram Walts
, 
Julie Powers
, 
Janna Brancato
, 
Mauricio Rojas
, 
Paul J Wolters
, 
Kevin K Brown
, 
Timothy S Blackwell
, 
Tomoko Nakanishi
, 
J Brent Richards
, 
Anthony N Gerber
, 
Tasha E Fingerlin
, 
Norman Sachs
, 
Sara L Pulit
, 
Zachary Zappala
, 
David A Schwartz
, 
Ivana V Yang
Description: Idiopathic pulmonary fibrosis (IPF) is a complex and incurable disease. Genetic risk factors explain a large portion of attributable risk. An understanding of the variants underlying this risk offer the possibility to identify disease before irreversible scarring occurs and to develop additional therapeutic targets. The authors previously identified 10 common variants that in aggregate account for at least 40% of the risk of IPF, of these the MUC5B promoter variant, rs35705950, was the strongest genetic risk variant for IPF. However, a more comprehensive analysis of the MUC5Blocus and other IPF-associated genetic loci is necessary to better understand disease pathogenesis and to guide disease diagnosis and treatment.
To investigate the functional relevance of common genetic IPF risk variants, the authors performed genome, transcriptome, and methylome analyses on lung tissue from IPF and control subjects, and co-localization and mediation analysis of eQTL and mQTL with genetic loci to prioritize potential causal risk variants. They identified 27 eQTLs in controls and 24 eQTLs in cases. Among these signals, the lead variant rs35705950 associated with expression of MUC5B and rs2076295 associated with expression of DSP in both cases and controls. mQTL analysis identified CpGs in gene bodies of MUC5B (cg17589883) and DSP (cg08964675) associated with the lead variants in these two loci. The authors also report strong co-localization of eQTL/mQTL and genetic signal in MUC5B(rs35705950) and DSP (rs2076295). Functional validation of the mQTL in MUC5B using luciferase reporter assays demonstrated that the CpG resides within a putative internal repressor element.
These findings establish a relationship between the common IPF genetic risk variants rs35705950 and rs2076295 with respective changes in MUC5B and DSP expression and methylation,and provide additional evidence that both MUC5B and DSP are involved in the etiology of IPF.
---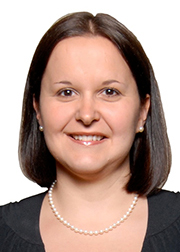 Section Chair
Ivana Yang, BS, PhD
Chair: Ivana Yang, BS, PhD
Co-Chair: Rachel Kelly, MPH, PhD
Welcome to the ATS Section on Genetics and Genomics website! Our Section welcomes all members of the ATS, regardless of Assembly affiliation, who are interested in genetics, genomics, and other "omics" technologies (proteomics, metabolomics, metagenomics, etc.) as they relate to the many diseases encompassing the fields of respiratory, critical care, and sleep medicine. Our Section has grown to over 1,000 members making us one of the largest society-based interest groups for genetic and genomic investigators focused on respiratory, critical care, and sleep medicine research. The Section on Genetics and Genomics resides within Allergy, Inflammation, and Immunology, but our current members belong to numerous ATS assemblies reflecting the diverse application of omics approaches across our membership.
Genetics and genomics are at the forefront of scientific research and medical practice into the 21st century, and the number of investigators focusing on these technologies is rapidly expanding. Although the diseases encompassed by the ATS are diverse, omics-based approaches have common, overlapping themes that are beneficial to informing research and the application of cutting-edge technologies. As outlined in our mission statement, we aim to facilitate the exchange of ideas across omics researchers while increasing the knowledge and appreciation of genomics research across the broader ATS community. Section members have impacted the exchange of ideas in ATS through the programming of scientific events including quarterly journal clubs and webinars, workshops, scientific symposia, and the annual curation of over 200 abstracts submitted for the international conference. In addition, members have led and contributed to published research statements and workshops though the ATS, ERS, and NHLBI on lung precision medicine research, high-throughput sequencing, respiratory disease-related healthcare disparities, and the management of severe asthma resulting in national and international impact.
We encourage all clinicians, scientists, post-doctoral fellows, and trainees interested in genetics and genomics research to learn more about our Section. We hope to increase the understanding of omics technologies and their applications to enhance the ability of our scientific community to address impactful research questions which could lead to precision approaches for patient care.