Assembly on Sleep and Respiratory Neurobiology James B. Skatrud New Investigator Award
---
Meet the 2023 Winner:
Christopher Nikolaus Schmickl, MD, PhD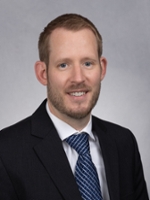 Chris Schmickl received his medical/doctoral degrees from the University Witten/Herdecke (Germany) and a Master of Public Health from the Harvard School of Public Health. Following a post-doctoral research fellowship at Mayo Clinic Rochester, he completed his clinical training comprising an Internal Medicine Residency at Boston University, and a Sleep Medicine Fellowship via the Harvard Combined Program. He currently is an Assistant Professor at the University of California San Diego (UCSD).
Dr Schmickl's vision is to develop new and personalized treatments for patients with obstructive sleep apnea (OSA) based on their underlying pathophysiology. To this end, he joined the Malhotra laboratory at UCSD in 2018 and under the guidance of his mentors Dr Malhotra/Dr Owens developed expertise in OSA endotypes (mechanisms underlying OSA) and pharmacotherapy. Leveraging the ATS Aspire fellowship and an ATS foundation grant he recently obtained three career development awards from the National Heart Lung and Blood Institute (K23, NHLBI), American Heart Association (AHA) and the American Academy of Sleep Medicine (AASM) foundation. Through these grants Dr Schmickl is studying potential drug therapies for the many OSA patients who failed CPAP or struggle with CPAP adherence. Clinically, he has been leading the hypoglossal nerve stimulation program at the UCSD sleep clinic to provide this new therapy to patients with OSA who failed standard therapies.
Dr Schmickl feels immensely honored to receive the 2023 James B. Skatrud award, and would like to thank all of his mentors (especially Dr Malhotra and Dr Owens - two former awardees themselves!), colleagues, and the ATS (especially the Sleep and Respiratory Neurobiology assembly) whose support has been critical for his early success.
---
Description:
The award is intended to recognize the career accomplishments to date and future promise of a new investigator working in the broad area of respiratory neurobiology and sleep, which includes control of breathing, sleep mechanisms, and sleep-disordered breathing. This may include work at the basic, clinical, epidemiological, or other levels.
This award recognizes a new investigator who is beyond formal training, but not yet fully established. It is not intended for well-established investigators. It is also not intended as recognition for a single project, but rather for overall accomplishments and future potential. There are no citizenship requirements for this award.  The awardee will be expected to make a short presentation about their research at the SRN Assembly Membership Meeting. The awardee will receive a framed certificate and a monetary award of up to $1000.
Eligibility:
Nominees cannot be at a rank higher than Assistant Professor (or equivalent).
Ph.D. or other non-physician scientists should be no more than seven years beyond the completion of their doctoral or terminal research degree at the time of application.
Physician-scientists (M.D.) should be no more than seven years beyond clinical training (residency, fellowship) at the time of application
Exceptions may be made for Nominees who have taken significant time away from their academic career; however, this must be pre-emptively discussed with the Planning Committee Chair.
Nominees should have more than one first-authored paper that is considered to advance the science of respiratory neurobiology or sleep.
Nominee and Nominator(s) must be ATS members.
Nominee must be able to attend the ATS International Conference.
Nomination of international candidates or those from underrepresented minority groups is encouraged. Details may be provided in the nomination letter and/or the candidate's statement.
Nomination Submission Documents:
A summary of the candidate's accomplishments in the attached bio-sketch format.
A statement by the candidate of his/her career goals and the potential of his/her research to advance the field of sleep and respiratory neurobiology (maximum 1 page). Candidates are encouraged to explicitly describe their achievements in terms of the scoring criteria (e.g., total grant funding, publications, SRN/ATS participation or leadership).
Nominating letter by a mentor (or mentors), which directly addresses the scoring criteria and academic potential
Evaluation Criteria:
Applicants are scored using a 1-5 rating system (with 5 being the best) in each of the following categories. A weighted average will be calculated for each category:
0.2 Grant Funding
0.1 Publications - total (quality & quantity)
0.3 Publications - original research – first, senior or corresponding author
0.1 Nomination Letter(s)
0.1 Personal Statement
0.1 Participation in SRN and ATS
0.1 Leadership Potential
---
2022 - Anna Michelle May, MD, MS
2021 - Lucas Donovan, MD, MS
2020 -  Tetyana Kendzerska, MD, PhD
2019 - Andrew W. Varga, MD, PhD
2018 - Camilla Hoyos, BSc (Hons), MPH, PhD
2017 - Jessie P. Bakker, PhD
2016 - Bradley A. Edwards, PhD
2015 - Ching Li Chai-Coetzer, MBBS, FRACP, PhD
2014 - Robert L. Owens, MD
2013 - Jonathan C. Jun, MD
2012 - Silke Ryan, MD
2011 - Luciano Drager, MD
2010 - Michael Arzt, MD
2009 - Amy Jordan, MD
2008 - Sanjay Patel, MD, MS
2007 - Malcolm Kohler, MD
2006 - Vsevold Polotsky, PhD
2005 - Atul Malhotra, MD