RCMB Innovation and Entrepreneurial Working Group
---
Presenters:
Louise Hecker, PhD, Associate Professor, University of Arizona, Founder and Chief Scientific Officer (CSO) of Fibronox
Naftali Kaminski, MD, Boehringer-Ingelheim Endowed Professor of Internal Medicine 
Chief of Pulmonary, Critical Care and Sleep Medicine Department of Medicine, Yale School of Medicine 
Erica Park, PharmD, Senior Director, Clinical Development, and Monica Sandberg, PhD, Head of Regulatory Affairs, Pliant Therapeutics, San Francisco, CA
Panelists:
Tim Watkins, MD MSc, Executive Director, Clinical Research, Respiratory Disease Area Lead Inflammation Therapeutics, Gilead Sciences Inc
Toby Maher, MD/PhD, Professor of Medicine and Director of Interstitial Lung Disease, Keck School of Medicine, University of Southern California, Los Angeles, USA
Colin Reisner, MD, Head, Respiratory Global Medicine, AstraZeneca; CEO, Pearl Therapeutics, Inc
David Morris, MD, Operating Partner, Novartis Venture Fund and Chief Medical Officer of Enterprise Therapeutics
Alan H Cohen, MD, Vice President of Global Medical Affairs, Eidos Therapeutics, San Francisco, CA
Moderator: 

Milica Vukmirovic, PhD, Michael DeGroote Innovation, Commercialization, and Entrepreneurship Fellow, McMaster University; Innovation and Commercialization Consultant, St. Joseph's Research Institute
---

Chair: Milica Vukmirovic, PhD 
vukmirom@mcmaster.ca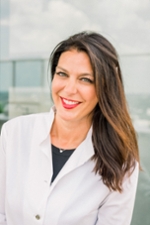 Co-Chair: Louise Hecker, PhD
Our Working Group Mission:
To enable and support entrepreneurship in academic pulmonary medicine and research.
Our Approach:
To identify learning gaps in development of new drugs, devices and technologies; and educate the investigators.
To mentor clinicians and researchers in preparation of business-related grant proposals and pitch slide decks for investors.
Our Interactions:
To organize education sessions in entrepreneurship at ATS and other lung research-focused international conferences
To work with other ATS assemblies and Drug Device Discovery and Development Committee
To assist with programing of ATS Respiratory Innovation Summit
To work with foundations, philanthropy and investors to develop funding opportunities for innovative lung research
Join us:
If you are interested in commercializing your academic inventions
If you are at university and thinking of starting a company
If you have already started a company in lung field
If you want to work for a start up
If you want to learn to navigate commercial process at University