Assembly on Respiratory Cell & Molecular Biology Recognition of Early Academic Achievement Award (REAAch)
---
Meet the 2022 Awardees: Luisa Morales-Nebreda, MD and Jennifer Larson Casey, PhD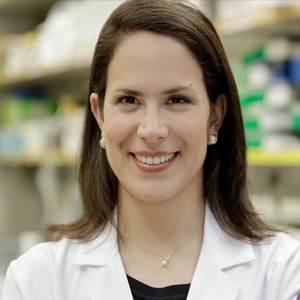 Dr. Luisa Morales-Nebreda is a physician-scientist and Assistant Professor of Medicine at Northwestern University in the Division of Pulmonary and Critical Care Medicine. She is a native of Caracas, Venezuela, where she received her MD from the Universidad Central de Venezuela. She completed a post-doctoral research fellowship, followed by Internal Medicine residency and Pulmonary and Critical Care fellowship in the Physician-Scientist Training Program at McGaw Medical Center of Northwestern University.
In her clinical practice, she has a particular interest in caring for patients in the intensive care unit with pneumonia, sepsis and the acute respiratory distress syndrome. Her laboratory focuses on determinants of recovery from viral pneumonia in aged hosts. Specifically, in the context of viral-induced lung injury, her laboratory aims to identify novel inter-cellular signaling pathways between immune cell subsets and the injured alveolar endothelium that promote tissue repair throughout the lifespan.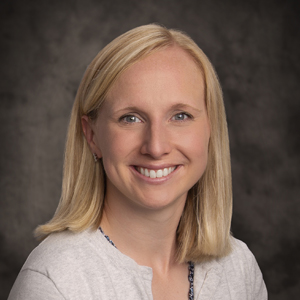 Dr. Jennifer Larson-Casey, PhD is an Assistant Professor at the University of Alabama at Birmingham (UAB). Her research is focused on investigating the role of air pollution mediating acute exacerbations of idiopathic pulmonary fibrosis (AE-IPF). She is a recipient of the prestigious Parker B. Francis Fellowship and recently awarded a faculty development grant at UAB. She has published several first author manuscripts in Immunity, Journal of Clinical Investigation, FASEB Journal, and American Journal of Respiratory and Critical Care Medicine among others and had 5 manuscripts published within the last year.
She is actively involved within ATS as a member of the RCMB Program Committee, ATS sponsored Hill Day, and annually participates in the ATS mentoring program. She was nominated as an Early Career Reviewer for the Journal of Biological Chemistry and served on the Systemic Injury by Environmental Exposure (SIEE) study section through the NIH Early Career Reviewer Program. She teaches graduate level courses at UAB and is active in mentoring students at all levels, undergraduate, graduate, post-doctoral scholars, and pulmonary fellows.
---
Description:
This recognition will be awarded to Early Stage Investigators (ESI) in the Instructor to Assistant Professor rank who demonstrate a sustained commitment to develop a productive academic career with focus on areas covered by the RCMB Assembly. This additional RCMB award intends to acknowledge the need for increased recognition of meritorious efforts of ESI by our assembly, expanding the existent Rising Stars and the Carol Basbaum Awards. 
Awards per year: 2
Criteria:
Instructor or Assistant Professor appointment effective on the date of the award
In possession of/applying for a Career Development award (NIH K award or foundation award equivalent in years of support/cost, provide application number)
Attended ATS International Conference at least once and holds RCMB membership for >1 year
Two letters of recommendation. Letters should address the nominee's scientific contributions, mentoring/teaching/educational contributions, and ATS participation.
Updated CV and NIH Biosketch
Does not require a scientific abstract
Both U.S. based and international scientists are eligible to apply
The awardee must be present at the ATS International Conference
Awards and Recognition:
Assignment as panel member in RCMB mini-symposia for the following ATS IC cycle
Names of the awardee will be placed in an RCMB database for preferred apprentice reviewers for ATS journals.
Announcement on ATS RCMB webpage and an announcement at the RCMB membership meeting.
The deadline to nominate is Feb 15, 2023
---
2022- Luisa Morales-Nebreda, MD and Jennifer Larson Casey, PhD
2021-  Kenichi Okuda, MD, PhD and Stefanie Krick, MD, PhD
2020 - Chelsea Magin, PhD and Jennifer Sucre, MD
2019 - Hrishikesh S. Kulkarni, MD, MSCI and Kambez Benam, PhD
2018 - Ciara Shaver, MD, PhD and Changwan Ryu, MD, MPH