Assembly on Pulmonary Rehabilitation Recognition Award
---
Meet the 2021 Winner: Thierry Troosters, PT, PhD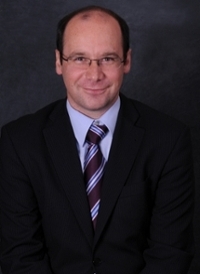 Professor Thierry Troosters is a Physiotherapist and full Professor at the University of Leuven (KU Leuven) in Belgium. Professor Troosters obtained his PhD at this University and did a post-doc on a long-term fellowship of the European Respiratory Society at the Hospital Clinic in Barcelona. He returned to Leuven where he is currently head of the Department of Rehabilitation Sciences of his University. The research of his team currently looks into the importance of physical activity for patients with respiratory diseases and the non-respiratory consequences of suffering from a lung condition. His group also looks at pulmonary rehabilitation and exercise modalities as a therapy that is complementary to pharmacologic interventions for COPD and other chronic lung conditions.
---
Description:
This award is given in recognition of service to the field of Pulmonary Rehabilitation and the ATS Assembly on Pulmonary Rehabilitation. The award is presented annually at the Pulmonary Rehabilitation Membership Meeting.
Criteria:
Recognized by his/her peers as making a significant contribution to the science or practice of pulmonary rehabilitation through clinical practice, and/or research, and/or teaching, and/or mentoring, and/or advocacy.
Demonstrated contributions to the PR Assembly in the form of committee participation or leadership and/or otherwise advancing the PR's mission will be viewed favorably.
The nominee must be a PR Assembly member (primary or secondary)
This award is open to all health disciplines.
Nominations must include a cover letter from a Pulmonary Rehabilitation Assembly member describing why the award is appropriate. The cover letter should be limited 2 pages and up to 1000 words.
Nominee's curriculum vitae must be included.
The nominee has not previously received this award (or similar PR Assembly Award).
---
Awardees from the Americas:
2020 - Pat Camp PhD PT
2019 - Christine M. Garvey, MSN, MPA, MPH
2018 - Carolyn L. Rochester, MD
2017 - Linda Nici, MD
2016 - Roger S. Goldstein, MD
2015 - Richard Casaburi, MD, PhD
2014 - Andrew Ries, MD, MPH
2013 - Suzanne Lareau, RN, MS, FAAN
2012 - Richard ZuWallack, MD
Awardees from Outside the Americas:
2020 - Martijn Spruit PhD PT
2019 - Jennifer A. Alison, PhD, MSc, PT
2018 - Michael D. Morgan, MD
2017 - Sally J. Singh, PhD
2016 - Anne E. Holland, PhD
2015 - Nicolino Ambrosino, MD
2014 - Marc Decramer, MD, PhD
2013 - Emiel Wouters, MD, PhD
2012 - Claudio Donner, MD
In Memoriam or Emeritus Awardees:
2020 - Brian L. Tiep, MD
2019 - Alvan L. Barach, MD
2018 - John E. Hodkin, MD
2017 - John W. Walsh
2016 - Karlman Wasserman, MD
2015 - Jose Jardim, MD, PhD
2014 - Timothy Griffiths, MD
2013 - Claudia Cote, MD
2012 - Thomas Petty, MD