Assembly on Pulmonary Rehabilitation Early Career Research Achievement Award
---
Meet the 2021 Winner: Heleen Demeyer, PT, PhD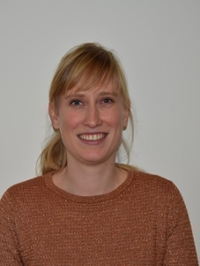 Dr. Heleen Demeyer is a post-doctoral researcher at the KU Leuven (University of Leuven, Belgium) and an assistant professor at the U Gent (Ghent university, Belgium). Heleen Demeyer completed her PhD at KU Leuven, under the supervision of Prof. Thierry Troosters and Prof. Wim Janssens. Her PhD mainly focused on measuring and enhancing physical activity in patients with COPD. After finishing her PhD, she performed an ERS long-term fellowship as post-doctoral researcher at ISGlobal (Barcelona, Spain) in the research group of Prof. Judith Garcia-Aymerich and she continued afterwards as a post-doctoral researcher at the KU Leuven. In 2019 she started as an assistant professor at the department of Rehabilitation sciences at Ghent University. Her current research is on rehabilitation and physical activity in several patient populations with lung disease and she is an expert in the design and evaluation of (tele)coaching interventions targeting physical activity. She currently has published 43 peer reviewed publications and is an active member of both ERS and ATS.
---
Description:
This award is given to a Pulmonary Rehabilitation (PR) Assembly member (primary or secondary) who has recognized scientific contribution(s) to the principles and practice of pulmonary rehabilitation and has made contributions to PR Assembly (and ATS) activities. Relevant research contributions may include but are not limited to: program structure, program content, outcomes or outcome measures, skeletal muscle dysfunction, exercise training, adjuncts to exercise training, mechanisms underlying benefits of PR, education, self- management, health-enhancing behavior change, social or psychological support, knowledge translation and program accreditation. 
Criteria:
At the time of submission nominees must be a maximum of 7 years from date of conferral of highest research degree, or, if no research degree, from date of first faculty appointment (career disruption will be considered).
Proposers must submit a nomination package including: 
Details and confirmation of the nominee's status as a primary or secondary member of the PR Assembly
Date of conferral of doctoral level degree
Date of first faculty appointment (if applicable).
A one page letter from a primary member of the Assembly describing the nominee's contributions (including to the PR Assembly/ATS) and why the award is appropriate
The nominee's curriculum vitae, including details of career disruption where relevant.
---
2020 - Rachel Evans, MBChB, FRCP, PhD
2019 - Claire Marie Nolan, MSc, PhD, and Chris Burtin, PT, PhD
2018 - Narelle S. Cox, PhD, PT
2017 - William Man, MD, PhD
2016 - Frits Franssen, MD, PhD
2015 - Xavier Soler, PhD, MD