2021 Pediatric Resident Boot Camp
---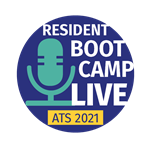 Pediatric Track

The 2021 ATS Resident Boot Camp Live is a virtual training course for internal medicine and pediatric residents (as well as chief residents and hospitalists) who have matched into a fellowship program beginning July 2021.  The goal of the Boot Camp is to prepare fellows entering an adult or pediatric pulmonary or critical care fellowship with the information, confidence and knowledge needed to flourish on the first day of fellowship.  
Participation in the ATS Resident Boot Camp allows attendees to:
Acquire knowledge of basic techniques and principles of mechanical ventilation, airway management, and bronchoscopy (indications, techniques, and limitations).
Improve knowledge base in cardiopulmonary physiology.
Develop strategies to successfully manage common clinical emergencies encountered as a fellow.
Inhalers, Airway Clearance, Tracheostomy
Deb Liptzin, MD, Community Medical Center (Missoula, MT)
Joyce Baker, MD, Children's Hospital Colorado
Lisa Ulrich, MD, Nationwide Children's Hospital
Christopher Baker, MD, Children's Hospital Colorado
Eric Zee, MD, Stanford Children's Health
Renee Potera, MD, UT Southwestern Medical Center
Rhea Vidrine, MD, UK Healthcare
John Brewington, MD, Cincinnati Children's Hospital
Dan Benscoter, MD, Cincinnati Children's Hospital
Tom Saba, MD, University of Michigan
Clement Ren, MD, Indiana University School of Medicine
Ventilation (invasive and non-invasive)
Erin Powell, MD, UK Healthcare
Welcome to Fellowship & Keys to Success
Tom Saba, MD, University of Michigan
Debra Boyer, MD, Boston's Children's Hospital
Kristie Ross, MD, University Hospitals Rainbow Babies & Children's Hospital
Hovig Artinian, MD, Helen DeVos Children's Hospital
RBC Pediatric Planning Committee:
Deborah Liptzin, MD, RBC Peds Track Co-Chair
Tom Saba, MD, RBC Peds Track Co-Chair
Erin Powell, MD, RBC Peds Track Co-Chair