William J. Martin II, M.D.
---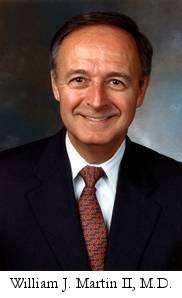 William J. Martin II, M.D. joined the National Institute of Environmental Health Sciences on March 6th 2006, one of the National Institutes of Health, as Associate Director for Translational Biomedicine. Translational Biomedicine focuses on moving research results from the NIEHS portfolio into clinical practice.
Dr. Martin works to ensure that the Institute's research is more rapidly integrated into advances in patient care. He will develop new clinical research programs, as well as interdisciplinary training initiatives to extend the influence of environmental health sciences into the clinical arena. He will also serve as liaison between NIEHS and its partners, including academia, professional societies, and other NIH institutes as NIEHS continues to foster and cultivate new relationships and collaborations.
Dr. Martin served as the Dean of the University Of Cincinnati College Of Medicine and is a past president of the American Thoracic Society. He also served as the Director of Pulmonary and Critical Care at Indiana University for twelve years before becoming the Executive Associate Dean for Clinical Affairs at the University's School of Medicine.
Recently, Dr. Martin worked as a volunteer physician aboard the US Navy Hospital Ship, the USNS Comfort as part of Project Hope during the Hurricane Katrina relief efforts. In this capacity, Dr. Martin helped establish clinics and provide medical services in devastated areas of Mississippi and saw first hand the impact that natural disasters can have on a population.
Some of the new interdisciplinary initiatives that Dr. Martin will help oversee include the Institute's new Disease Investigation for Specialized Clinically Oriented Ventures in Environmental Research (DISCOVER) program. DISCOVER is a new program designed to support teams of researchers focused on integrating environmental health research with patient-oriented and population-based studies.
Dr. Martin received his M.D. from the University of Minnesota in 1974, and completed his pulmonary and critical care training at Mayo Clinic in1979. Following completion of his research training in the Pulmonary Branch at the National Heart, Lung and Blood Institute, he joined the staff of Mayo Clinic as a clinician-investigator in 1981. While on faculty at Indiana University, Dr. Martin served as a Health Policy Fellow, United States Senate, Labor and Human Resources Committee in 1995.
He has authored more than 130 research and clinical papers, and has been an NIH-funded scientist for the past 24 years. Dr. Martin has been an invited speaker for nearly 200 events, including testifying before the World Health Organization and U.S. Congress. Dr. Martin has received numerous awards including the Sagamore of the Wabash, the highest award presented to a citizen of Indiana by the Governor of Indiana.