Reproductive Health & Lung Disease
---

Welcome Message
Thank you for joining us at the American Thoracic Society (ATS) Lung Disease Week. This week is focused on the issues related to reproductive health in patients with underlying lung disease. There are several considerations that need to be taken into account regarding reproductive health in patients with respiratory conditions. The key issues relate to the successful management of pregnancy and delivery. Certain lung diseases are closely related to female hormones and may be associated with increased risk of complications and worse outcomes with pregnancy. Considerations include the mode of delivery, whether via vaginal delivery or caesarean section, the risks associated with anesthesia, safety of the treatment medications for the mother and child during pregnancy and while breastfeeding, and the risk of disease transmission to the offspring. Other issues pertaining to reproductive health that are relevant to patients with certain lung diseases may include the impact of hormone fluxes during the menstrual cycle on their lung disease, and the safety and choice of contraception. In general, reproductive health concerns in patients with underlying lung disease should be managed in close collaboration with their obstetrician/gynecologist and pulmonologist.
Nishant Gupta, MD
Assistan Professor of Medicine
Director, Interstitial Lung Diseases Center, Divisions of Pulmonary, Critical Care, and Sleep Medicine
University of Cincinatti

Mary Harbaugh
Board Member
LAM Foundation
Member, ATS Public Advisory Roundtable

Michele Manion
Founder & Executive Director
PCD Foundation
Chair-Elect, ATS Public Advisory Roundtable
 ATS Reproductive Health and Lung Disease Week Partners

The LAM Foundation urgently seeks safe and effective treatments, and ultimately a cure, for lymphangioleiomyomatosis (LAM) through advocacy and the funding of promising research. We are dedicated to serving the scientific, medical and patient communities by offering information, resources and a worldwide network of hope and support.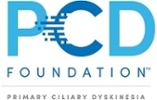 The Primary Ciliary Dyskinesia Foundation is a not-for-profit 501(c)(3) patient advocacy foundation for individuals with inherited ciliary disorders and their caregivers. As a patient-focused organization, the PCDF's mission is to provide the leadership and resources needed to support increased research, accelerated diagnosis, improved health and, ultimately, a cure for primary ciliary dyskinesia.