Prescott Woodruff, MD, MPH
---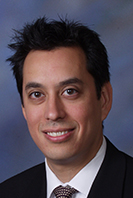 Please describe the research questions of your lab.
Can we identify biologically and therapeutically relevant subtypes of asthma and COPD using genomic methods?
What are biological mechanisms that underlie mild COPD? And disease progression in COPD?
What are biological mechanisms that underlie resistance to the respiratory effects of cigarette smoke?
Do microRNAs regulate airway epithelial differentiation and mucus production in respiratory disease?
Can small extracellular RNAs serve as non-invasive biomarkers of respiratory disease?
What genetics/genomics techniques do you utilize in your lab?
RNA sequencing
Single cell RNA sequencing
Multiplex qPCR
proximity ligation assay for RNA (PLAYR)
CRISPR
Describe a key technique/assay/instrument utilized in your lab, and what novel insights does it bring to your research question?
RNA sequencing. When we perform RNA-seq on resident lung cells and lung-derived samples, and compare these expression signatures to signatures of gene expression obtained in cultured cells exposed to specific inflammatory mediators, we are able to make novel insights into inflammatory pathways that are active in subsets of patients with asthma and COPD and better understand molecular heterogeneity in these diseases.
At what point in your life did you decide you wanted to be a scientist/physician?
I became excited by biological bench research in high school (volunteering first and then summer jobs). I caught the bug for research then. I went to medical school with the intent of ultimately becoming a physician/scientist. During residency I became interested in clinical research. After residency, before fellowship, I decided to combine my bench and clinical research interests and to do "translational research".
In your opinion, what is one of the most important discoveries in the field of respiratory illness/disease/function that was dependent on genomics or similar techniques?
Identification of the association between MUC5B promoter polymorphism(s) and risk for fibrotic lung disease.
Briefly describe your favorite publication involving genomics/omics that you were involved with (with a PMID or reference) in general-audience terms.
I would like to recommend the following in press paper: https://www.jci.org/articles/view/121087
This project was particularly satisfying because it used multiple new and existing genomics datasets, including RNA-sequencing data from diseased tissue obtained clinical trials of IL-17 inhibitors in psoriasis, to develop and validate an IL-17 signature that identifies a steroid resistant subpopulation of COPD patients. I found it particularly satisfying to use data from clinical trials (interventions in humans) and across disease states to ask questions in a respiratory disease.
What is your favorite aspect of ATS?
My favorite aspect of ATS is the thematic poster sessions. As a young investigator I got great suggestions from talking with interested investigators one-on-one when I presented my posters. As a more senior investigator I still enjoy walking through the thematic poster sessions, finding fascinating new data buried in the most unexpected places and meeting people (often young investigators) whom I would not have otherwise met.
How could your research assist scientists and clinicians in other assemblies at ATS?
I think my translational research can and should be of interest to the more clinical assemblies at ATS. This interplay with clinicians is vital to me formulating good questions and for my results to be maximally useful in the future.
Would you be open to collaborations with GG and/or non-GG scientists and clinicians? Do you have any potential lab openings currently or in the near future?
I am always open to collaborations, but I don't have a specific opening to advertise.