Paul Reyfman, MD
---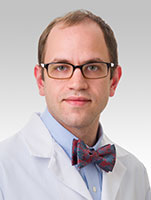 Please describe the research questions of your lab.
I am interested in systems-based approaches to investigating the age-related susceptibility to respiratory health impairment and to developing chronic lung disease. In particular, my research has focused on leveraging gene expression data for developing novel hypotheses about disease pathobiology for testing in animal models, or for developing biomarkers of disease susceptibility, diagnosis, prognosis, or predicted response to therapy.
What genetics/genomics techniques do you utilize in your lab?
My work is focused on analysis of gene expression data including bulk and single-cell RNA-seq data. We are developing techniques for multiplexed single-nucleus RNA-seq and combined single-cell surface protein/transcriptome measurement of lung specimens.
Describe a key technique/assay/instrument utilized in your lab, and what novel insights does it bring to your research question?
Technologies for single-cell RNA-seq are powerful and evolving rapidly. We decided early in our work using single-cell RNA-seq to study lung tissue that it was important to validate our findings. We have found RNA in situ hybridization with amplification (RNAScope) to be useful for validation of novel cell populations or expression of unexpected genes identified with single-cell RNA-seq.
At what point in your life did you decide you wanted to be a scientist/physician?
I wanted to be a physician since childhood. In college, I majored in mathematics and economics and took some courses in computer science. During my fellowship training I knew I wanted to work on research that incorporated computational tools, and that was when labs in our Division were just starting to produce RNA-seq datasets. I was extremely lucky to have the opportunity to get started learning about bioinformatics approaches through analyzing these datasets.
In your opinion, what is one of the most important discoveries in the field of respiratory illness/disease/function that was dependent on genomics or similar techniques?
In 2018, two groups simultaneously published papers describing a novel cell type – the pulmonary ionocyte – that relied heavily on single-cell RNA-seq analysis of mouse tracheal epithelial cells and human bronchial epithelial cells. These cells are responsible for a substantial portion of CFTR expression and CFTR activity in the airway, and therefore represent a promising target for therapy for cystic fibrosis. While many respiratory diseases may not be attributable to a distinct cell type, this work provides a framework for identifying pathogenic cell subtypes or cell states to be targeted for therapy in other chronic lung diseases.
Briefly describe your favorite publication involving genomics/omics that you were involved with in general-audience terms. 
My favorite publication that I was involved with is our work on single-cell RNA-seq of human whole lung tissue in patients with pulmonary fibrosis (PMID 30554520). This work was satisfying because we were able to confirm a hypothesis based on our earlier mouse work that there is heterogeneity within alveolar macrophages during fibrosis, and that a subpopulation of alveolar macrophages in patients with pulmonary fibrosis expresses profibrotic genes.
What is your favorite aspect of ATS?
As an early career investigator, I have been repeatedly impressed with the willingness of researchers at all stages to collaborate and to offer thoughtful advice. My favorite aspect of ATS is the community and how the ATS conference successfully creates so many opportunities to meet new people, learn about their research, and hear about how they got where they are.
How could your research assist scientists and clinicians in other assemblies at ATS?
Transcriptomic profiling technologies are rapidly becoming widespread in basic, translational, and clinical research areas covered by all ATS assemblies. Biomarkers developed from gene expression profiling are entering routine clinical use for many respiratory disorders from lung cancer to interstitial lung disease to pneumonia.
Would you be open to collaborations with GG and/or non-GG scientists and clinicians? Do you have any potential lab openings currently or in the near future?
We love to develop new collaborations. Our Division has growing programs in murine models of pulmonary fibrosis, translational research in aging and chronic lung disease, and systems approaches to investigating health, aging, and disease in the lung. We are always looking for talented recruits at all levels!
Please include your email address or lab website to share with potential collaborators!