Jose Gomez Villalobos, MD, MS
---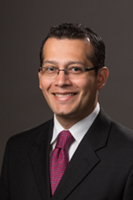 Please describe the research questions of your lab.
Our lab is focused on the study of asthma and airway disease using a combination of high-throughput methods and clinical data to improve disease classification, understand disease mechanisms, and identify potential therapeutic targets. We are particularly interested in the role of microRNAs in airway inflammation and remodeling.
What genetics/genomics techniques do you utilize in your lab?
We use a combination of techniques ranging from Nanostring arrays to quantify microRNAs, Dropseq for single cell analysis, RNAseq, and CyTOF.
Describe a key technique/assay/instrument utilized in your lab, and what novel insights does it bring to your research question?
Single cell analyses have the potential to improve our understanding of the molecular processes involved in normal cell function as well as disease states. We are using these approaches to study human samples from patients with lung disease to expand our existing knowledge of transcriptomics in the airway and circulation.
At what point in your life did you decide you wanted to be a scientist/physician?
As a child, I was fascinated with John Dalton, an English polymath who worked in physics, chemistry and mathematics. As I learned more about medicine's integration of multiple disciplines, I realized this was a great fit for me.
In your opinion, what is one of the most important discoveries in the field of respiratory illness/disease/function that was dependent on genomics or similar techniques?
Cystic fibrosis was transformed by the identification of the delta 508 mutation. Subsequent molecular characterization and targeted drug development have been able to improve our approach to treat this disease.
Briefly describe your favorite publication involving genomics/omics that you were involved with in general-audience terms.
Our publication Characterisation of asthma subgroups associated with circulating YKL-40 levels (PMID=29025889) is perhaps my favorite publication. We integrated clinical data with a serum protein and transcriptomics of the airway to identify asthma subgroups characterized by different degrees of severity. This has important implications in our understanding of the potential mechanisms for YKL-40 production and its association with severe asthma.
What is your favorite aspect of ATS?
ATS is an amazing society. Every meeting and interaction with ATS colleagues is a great opportunity to learn, grow, and achieve the society's goal of helping the world breathe. I have been able to organize podcasts for the Section of Genetics and Genomics and the Assembly on Allergy, Immunology and Inflammation, these interviews have allowed me to interact and learn from ATS leaders.
How could your research assist scientists and clinicians in other assemblies at ATS?
My research is multidisciplinary and I value the team-science approach. I would say that my ability to create a bridge between the clinic and novel genetic and genomic approaches, facilitates these collaborations and may help solve important challenges faced by our colleagues outside of our section and assembly.
Would you be open to collaborations with GG and/or non-GG scientists and clinicians? Do you have any potential lab openings currently or in the near future?
I'm always open to collaborate with scientists and clinicians. I do not have current openings but feel free to contact me to express your interest in our research.