Esteban Burchard, MD, MPH
---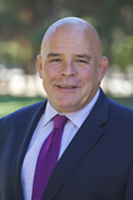 Please describe the research questions of your lab.
We study the interplay between genes and the environment to determine the causes of asthma health disparities in children and adolescents in order to identify and develop targeted interventions that improve asthma health outcomes.
What genetics/genomics techniques do you utilize in your lab?
We have a strong track record and expertise in analyses of admixture, race/ethnicity, translational genetics, genomics and gene-environment analyses of asthma, and importantly, collaboration. This includes, trans-ethnic admixture mapping, whole genome analyses, transcriptomics and methylation analyses. We also have expertise in gene-environment interactions, as well as social modifiers.
Describe a key technique/assay/instrument utilized in your lab, and what novel insights does it bring to your research question?
We use many tools and techniques and these are constantly changing. However, what is not changing is our mind set of collaboration. We are called the Asthma Collaboratory because we expect that each person participate in spontaneous intellectual collisions or intellectual osmosis.
At what point in your life did you decide you wanted to be a scientist/physician?
I have always loved science and biology but there were no role models in my childhood. There were no minority physicians or scientists.  I found strong, successful and minority role models through wrestling in high school and college. My coach was a NCAA National Champion in wrestling, on the '84 and '88 US Olympic Team, pursuing a PhD and happened to be African American. My study partner was an NCAA Finalist in wrestling and happened to be African American. They encouraged me to believe in myself and apply the discipline I had in wrestling toward my academics. My major in college was Cellular and Molecular Biology. In college, I decided to commit myself to becoming a physician-scientist.
In your opinion, what is one of the most important discoveries in the field of respiratory illness/disease/function that was dependent on genomics or similar techniques?
I was the first to apply genetic ancestry testing to measures of lung function, apply admixture analyses to lung disease and pharmacogenetics.
Briefly describe your favorite publication involving genomics/omics that you were involved with in general-audience terms.
I loved our 2010 NEJM paper on ancestry and lung function in African Americans. It was a true team effort. I am very proud of our JACI paper led by Maria Pino Yanes because we were able to evaluate the interaction of genetic ancestry, social and environmental effects on lung function.
What is your favorite aspect of ATS?
To me, the ATS is like the watering hole where all of the physicians and scientists meet. My first ATS was in Chicago 1998. It was there that the idea for the GALA Study was born. GALA is Genetics of Asthma In Latino Americans. It has grown into the largest gene-environment study of asthma in minority children in the nation.
How could your research assist scientists and clinicians in other assemblies at ATS?
We are a multidisciplinary team of scientists and I only select team members that are nice, easy to work with, smart, hard working and collaborative. We are specifically focusing on minority children with asthma and geocoded environmental and drug response data. Our team includes clinicians with expertise in asthma, statistical geneticists, epidemiologists (genetic and environmental), and molecular biologists.
Would you be open to collaborations with GG and/or non-GG scientists and clinicians? Do you have any potential lab openings currently or in the near future?
Yes. Our name, Asthma Collaboratory, reflects the essence of what we do. We are always looking for smart, hard working and nice team members who have "grit".
Esteban Burchard (esteban.burchard@ucsf.edu)
Asthma Collaboratory
---
Please listen in to the AAWP Medical Minute sponsored by the African American Wellness Project that describes how Dr. Bruchard decided to focus his career on discovering causes of asthma health disparities in children.