Ann Wu, MD, MPH
---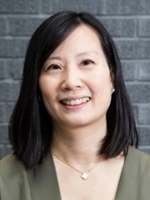 Please describe the research questions of your lab.

My research focuses at the intersection of genetic epidemiology and health services research. I am currently leading the Age-Dependent Pharmacogenomics of Asthma Treatment (ADAPT) study, which has the goal of elucidating how age modulates genetic, genomic, and metabolomic information on response to asthma medications. The ability to link genetic variants to the therapeutic responses with additional information from genomics and metabolomics will provide insight into the biologic pathways that may be activated. In addition, I lead the development of the Precision Medicine Prevention and Treatment Model (PreEMPT), which applies modeling methods to genomic technologies. 
At what point in your life did you decide you wanted to be a scientist/physician?

I knew in high school that I wanted to become a scientist as science fair projects were a big part of my life. I enrolled at MIT as a biology major with the intention to pursue a PhD program after college. However, a course, "Genetics in Medicine" inspired me to go to medical school to become a pediatrician. After residency in pediatrics, I went into private practice for a few years before realizing I still wanted to pursue research. I re-entered academia by participating in the Harvard Pediatric Health Services Fellowship program with Scott Weiss as my mentor as my goal was to pursue translational pharmacogenomics.
Briefly describe your favorite publication involving genomics/omics that you were involved with in general-audience terms. 
My favorite publication involving genomics is a research statement published in the Blue journal entitled, Current Status and Future Opportunities in Lung Precision Medicine Research with a Focus on Biomarkers. An American Thoracic Society/National Heart, Lung, and Blood Institute Research Statement. (PMID: 30640517) This was my favorite publication because it was the results of discussion among a diverse group of clinicians and researchers from ATS and leaders of NHLBI. We reviewed existing biomarker tests for respiratory diseases and identified knowledge gaps that future research studies can address. Specifically, we focused on the efficient translation of biomarker tests into clinical practice which include assessing cost-effectiveness and ensuring that the biomarker tests apply to diverse real-life populations. An additional highlight of this publication is we were able to incorporate the experience of Maki Inada, who was diagnosed with stage IV non-small-cell lung adenocarcinoma and given a poor prognosis at the age of 36 years. Thanks to pharmacogenetic testing, she turned out to have an EGFR exon 19 deletion mutation and was incredibly responsive to Tarceva. A few years after diagnosis, she gave birth to a baby girl. Maki was a good friend of mine from high school and college; while I opted to go to medical school, she did pursue a PhD in biology at UCSF after college. Maki's story provides me the motivation of translational pharmacogenomics research.
What is your favorite aspect of ATS?
I love the diversity of ATS members. I may be the only ATS member who is a member of both the Behavioral Science Health Services Research (BSHSR) assembly and SGG. I'm also a rare general pediatrician to be a member of ATS. Being surrounded by researchers with different training and expertise from me allows me to learn so much and to develop new collaborations.
Please include your email address or lab website to share with potential collaborators!
Ann.wu@childrens.harvard.edu
https://www.populationmedicine.org/index.php/research/PMRG/home