The future is bright and pluripotent for Lung Stem Cell research
---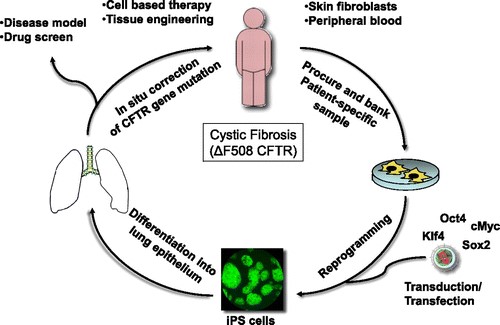 From Darrell N. Kotton "Next-Generation Regeneration", American Journal of Respiratory and Critical Care Medicine, Vol. 185, No. 12 (2012), pp. 1255-1260.
In 2006, Takahashi and Yamanaka forever changed our understanding of stem cell biology and provided us with the invaluable tool of reprogramming technology. They demonstrated that somatic cells can be reprogrammed using transcription factors to engineer pluripotent stem cells or iPS cells, thus opening up endless possibilities for the use and application of iPS cells in human diseases. Several research groups have been able to reproduce this finding and Professor Darrell Kotton of the Centre for regenerative medicine at Boston University is one of many investigators leading the drive and advancement on the possibilities these induced pluripotent stem cells hold for emphysema patients with alpha1 anti-trypsin deficiency and cystic fibrosis patients with the CFTR mutation. Theoretically, one can use this technology to correct these defects and significant advances using rodent disease models have been made in the haematology and neurological field with sickle cell anaemia and Parkinson's diseases respectively by hypothesis driven research. Using autologous somatic cells to generate iPS cells in patients with cystic fibrosis, alpha1 anti-trypsin a bio-bank of these iPS cells have been generated from several donors and subsequently corrected the defective gene. Notable milestones that clearly demonstrates this achievement was published in Nature by Prof Valliers' group at the Wellcome Trust Sanger Institute in 2011 for alpha1 anti-trypsin and more recently (2015), Prof Brian Davis at the University of Texas Health Science Centre published a similar correction for CFTR gene in Stem Cell reports. The momentum of this rapidly evolving field ushers unprecedented discoveries for research scientists and renewed hope in the coming years for patients and their families with inherited lung disease.
To get an in-depth view on stem cells and lung regeneration, Prof Kotton discusses the journey, milestones and future promise for iPS cells in this podcast.
Thanks for listening!
Oluwaseun O Ojo PhD (RSF Assembly, MITT Group)
*If you are unable to play the audio please click here to download the file.
References
Takahashi K, Tanabe K, Ohnuki M, Narita M, Ichisaka T, Tomoda K, Yamanaka S. Induction of pluripotent stem cells from adult human fibroblasts by defined factors. Cell. 2007; 131(5):861-72.
Yusa K, Rashid ST, Strick-Marchand H, Varela I, Liu PQ, Paschon DE, Miranda E, Ordóñez A, Hannan NR, Rouhani FJ, Darche S, Alexander G, Marciniak SJ, Fusaki N, Hasegawa M, Holmes MC, Di Santo JP, Lomas DA, Bradley A, Vallier L. Targeted gene correction of α1-antitrypsin deficiency in induced pluripotent stem cells. Nature. 2011; 478(7369):391-4
Kotton DN. Next-generation regeneration: the hope and hype of lung stem cell research. Am J Respir Crit Care Med. 2012; 185(12):1255-60.
Crane AM, Kramer P, Bui JH, Chung WJ, Li XS, Gonzalez-Garay ML, Hawkins F, Liao W, Mora D, Choi S, Wang J, Sun HC, Paschon DE, Guschin DY, Gregory PD, Kotton DN, Holmes MC, Sorscher EJ, Davis BR. Targeted Correction and Restored Function of the CFTR Gene in Cystic Fibrosis Induced Pluripotent Stem Cells. Stem Cell Reports. 2015; 4(4):569-77