Incidental Pulmonary Nodule in a 75-Year-Old Man
---
Reviewed By Clinical Problems Assembly
Submitted by
Leanne K. Strack, DO
Clinical Instructor and Pulmonary/Critical Care Fellow
The Ohio State University
Columbus, Ohio
Charles L. Hitchcock, MD, PhD
Associate Professor of Medicine, Clinical
Department of Pathology
The Ohio State University
Columbus, Ohio
Karen Wood, MD
Assistant Professor of Medicine
Pulmonary/Critical Care Medicine
The Ohio State University
Columbus, Ohio
Submit your comments to the author(s).
History
A 75-year-old man is referred to an outpatient pulmonary clinic for evaluation of an abnormal chest radiograph. The chest radiograph was performed as part of routine examination by his cardiologist. He has a history of coronary artery disease, high cholesterol and hypertension. He was placed on amiodarone after coronary artery bypass grafting 12 years ago. His other medications include clopidogrel, atenolol, rosuvastatin, colesevelam and aspirin. He denies a personal or family history of malignancy. He works as a mechanical engineer and denies exposure to asbestos, but gives a recent history of exposure to polyurethane and lacquers. He is a life-long nonsmoker and denies exposure to second-hand smoke. He denies symptoms of hemoptysis, weight loss, fatigue or shortness of breath.
Physical Exam
The patient is 67 inches tall and weighs 140 pounds. He is in no acute distress and his oxygen saturation is 98% on room air. His chest examination does not reveal any bony abnormalities and his lungs are clear to auscultation bilaterally. His remaining cardiac, abdominal, extremity and neurologic examinations are unremarkable.
Lab
A chest CT scan reveals a 1.6 cm by 2.7 cm irregularly shaped soft tissue density nodule or focus of consolidation in the posterior basal segment of the left lower lobe. A fusion positron emission tomography (PET)/CT scan of the chest demonstrates a standardized uptake value (SUV) of 5.5 for the left lower lobe lesion and no associated lymphadenopathy or increased uptake elsewhere. A CT-guided biopsy was performed and demonstrates organizing pneumonia, alveolar septal thickening due to lymphoplasmacytic infiltrate, and poorly defined granulomas with no evidence of organisms on acid fast bacilli (AFB) and giesma (GMS) staining.
Because of the concern for malignancy, a video-assisted thoracoscopic (VATS) wedge resection was performed. The pathology is pictured below.
Figures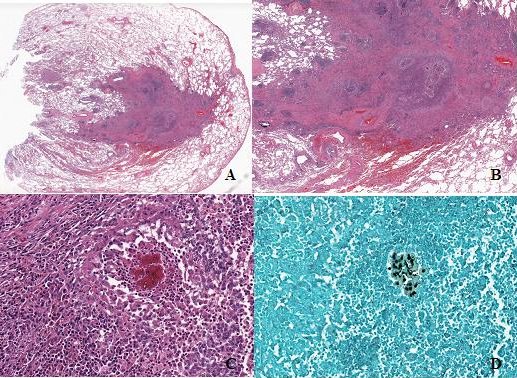 Figure 1: a) Low magnification of hematoxylin and eosin (H&E) stain of pathologic specimen; b) Higher magnification of H&E stain of pathologic specimen; c) High magnification of H&E stain of pathologic specimen; d) High magnification of GMS stain of pathologic specimen. The biopsy contains a prominent fibrotic nodule containing numerous microabscesses with brown pigmented, moniliform elements within giant cells and within granules characterized by a prominent Spledore-Hoeppli phenomenon.
---
References
Rodig SJ, Dorfman DM. Splendore-Hoeppli phenomenon. Arch Pathol Lab Med 2001;125:1515- 1516.
# Revankar SG. Phaeohyphomycosis. Infect Dis Clin N Am 2006:20;609-620.
Naggie S and Perfect JR. Molds: Hyalohyphomycosis, phaeohyphomycosis, and zygomycosis. Clin Chest Med 2009;30:337- 353.
Barenfanger J, Ramirez F, Tewari RP, Eagleton L. Pulmonary Phaeohyphomycosis in a Patient with hemoptysis. Chest 1989;95:1158-1160.
Borges MC Jr, Warren S, White W, Pellettiere EV. Pulmonary phaeohyphomycosis due to xylohypha bantiana. Arch Pathol Lab Med 1991;115:627- 629.
Revankar SG. Therapy of infections caused by dematiaceous fungi. Expert Rev Anti Infect Ther 2005;3:601-612.
Sudduth EJ, Crumbley AJ, Farrar WE. Phaeohyphomycosis due to exophiala species: Clinical spectrum of disease in humans. CID 1992;15:639- 644.
Soubani AO. The evaluation and management of the solitary pulmonary nodule. Postgrad Med J. 2008;84:459-466.
Wahidi MM, Govert JA, Goudar RK, Gould MK, McCrory DC. Evidence for the treatment of patients with pulmonary nodules: When is it lung cancer? ACCP evidence-based clinical practice guidelines (2nd Edition). Chest 2007;132:94S- 107S.
Klein JS, Braff S. Imaging evaluation of the solitary pulmonary nodule. Clin Chest Med 2008;29:15-38.
Kuhlman JE, Perlman SB, Weigel T, Collins J, Yandow D, Broderick LS. PET ccan-CT correlation: What the chest radiologist needs to know. Curr Prob Diagn Radiol 2004;33:171-188.