Hill Day 2012
---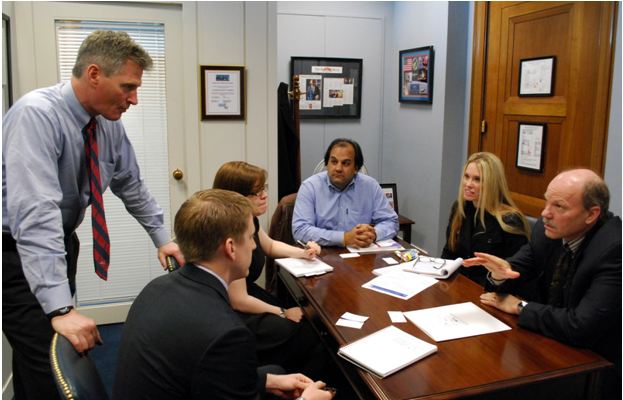 From right:  ATS President Nicholas Hill, Teresa Barnes of the Coalition for Pulmonary Fibrosis, and ATS member Atul Malhotra, with Massachusetts Senator Scott Brown and Legislative Staff.
More than 30 ATS members and patients from across nation met with legislators in Washington, D.C. for the annual ATS Hill Day in late March.  ATS members and patients sought increased research funding at the National Institutes of Health and Veterans Affairs and a permanent fix of the Medicare Sustainable Growth Rate formula. They also urged Congress to support the Environmental Protection Agency's efforts to reduce air pollution.
ATS President Nicholas Hill, MD, and ATS Public Advisory Roundtable chair Teresa Barnes of the Coalition for Pulmonary Fibrosis were at the scene. "I thought the Hill Day went remarkably well, and we got to meet with many of our members of Congress," Dr. Hill says. "There was bipartisan support for both NIH funding and an SGR fix, but that support started getting fuzzy when we pressed for details.
"Unfortunately, support for clean air policy tended to be less bipartisan than I would have hoped for. The ATS will need to continue to make the case that clean air means good health."
Barnes noted the importance of patient representation during Hill Day. "The physician and patient partnership was a great way of getting our messages across," Barnes says.